Description
Used for ambulance, ICU, operating room,
emergency department, field first aid and
transport. The ventilator can be used on both
children and adults.
Product Features
1. Micro processor controlled, constant volume, pressure triggered.
2. LCD monitor, multiparameter digital display.
3. Compact and light weight. Weight: Machine only: 3 Kg. Total weight 13 Kg (including
oxygen tank and all the accessories).
4. Three kinds of power sources: AC, DC and built in internal lithium ion battery (works for
more than 8 hours on battery mode).
5. Can be used for both invasive and noninvasive.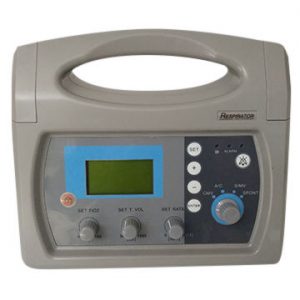 Monitoring and Alarm Function
Multiple parameters monitoring and display functions.
Multiple alarm and prompt functions.
Multiple security protection functions.
Service Conditions
Power Supply: AC, DC, Built-in lithium ion battery
Gas Supply: Oxygen cylinder, gas supply from
hospital wall, gas supply inside the ambulance.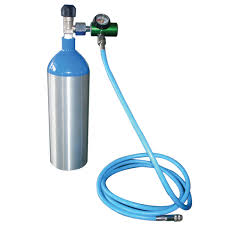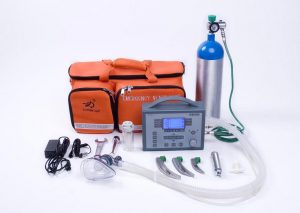 Environmental Requirements
Relative humidity: 15%- 95%
Ambient temperature: -18-50 o C
Atmospheric pressure: 70-110 kPa
Gas source: 0.28- 0.6 mPa 60 L/min
Power: AC 100V 240V or DC 12V
Battery: 2200mAh, rechargeable
Classification 
Class I, Type B protection against electric shock
IPX4 water resistant rating
Suitable for patient who weighs more than 25Kg
Configuration
Standard configuration: Ventilator,
Oxygen Pressure Reducer, Mask, High
pressure oxygen hose, Long simulator,
Breath circuit, Head band, Power adapter
Optional accessories: Carrying Package,
2L oxygen aluminum cylinder, Oxygen
bridge, Hanging rack.
| | |
| --- | --- |
|  Description |  Specifications |
|  Modes |  CMV, A/C, SIMV, SPONT |
|  Tidal Volume |  50 ~ 1200 mL |
|  Respiratory Rate |  5 ~ 60 bpm, 1 ~ 12 bpm for SIMV |
|  FiO2 |  40% ~ 100% |
|  Trigger |  -10 ~ 0 hPa |
|  Max Minute Volume |  ≥ 22 L/min |
|  PEEP |  0, 5 ~ 20hPa |
|  PIP |  0 ~ 60hPa |
|  Over Pressure Relief |  0 ~ 5 L/min |
Product Dimension
530 x 530 x 280 mm
Product Weight
3 Kg (ventilator machine only)
13 Kg (including all accessories)
Monitors:
Tidal Volume
Respiratory Rate
Trigger
Airway Pressure
Airway Pressure Waveform
Sigh
Peak Airway Pressure
Alarms:
High Airway Pressure Alarm
Low Airway Alarm
Low Battery Alarm